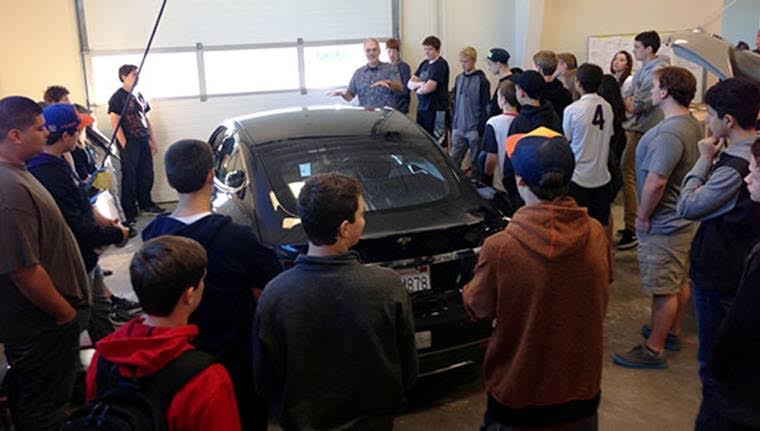 This update was prepared for SJPSF by Derek Smith
The San Juan Island School District's Science, Technology, Engineering, and Math (STEM) program is wrapping up its 2015-16 academic year. We're already planning for the coming years after many successes from the K-12 students, including teams competing in the state-wide Orca Bowl at UW and others demonstrating their underwater vehicles at FHL's annual Open House.
Formal classes offered in the first year have included: Materials Engineering using 3D printers and industry-standard Computer Aided Drafting (CAD) software; Robotics using Vex, Remotely Operated Vehicles (ROVs), and quadcopters to cover land, air, and sea; Digital Photography using DSLR still and video cameras as well as Photoshop and FinalCut Pro editing software; Video Game Design and Programming using Unity platform to create novel games, and Automotive Foundations spanning generations of 1960s, 70s, and 80s combustible engines to hybrid vehicles and even the all-electric Tesla and Nissan Leaf.
The high school students enrolled in these courses have been exposed to high-level academic concepts and principles and participated in engaging and innovative experiential learning opportunities.
Although the STEM Center was designed to facilitate regular school day classes for Friday Harbor High School (FHHS) students across all grades, we strive to engage K-12 students in all San Juan Island schools in after-school programs and independent study opportunities every day. FHHS students recently competed for the 16th year in the regional National Ocean Sciences Bowl (NOSB) competition held at the Aquatic and Fishery Science department at the University of Washington. The Navigator Class ROV team competed in the regional Marine Advanced Technology Education (MATE) competition in May, led by two-time MATE champion and Spring Street International School student Matthew McElrath.
We've also formed an independent mobile application coding team and are preparing to build our first District app across all mobile operating platforms. Friday Harbor Elementary and Middle School students are currently involved in after-school Robotics Club, Arduino programming, and designing and building ROVs and competing in the MATE competition in the Scout Class. They've even partnered with Switch Vehicles in California to build a full-size, street legal, all-electric vehicle with 25 middle school students, the island's first electric vehicle design and build team, including students from Paideia Classical School.
The passing of the recent island levy also means we've already started planning the new Elementary School STEM Center, a sister facility to the current STEM facility at Friday Harbor High School. The addition of this amazing resource will lead to our vision of true K-12 vertical alignment across all disciplines.
In addition to offering the same courses for the coming 2016-17 academic year, we're also excited to add a Marine Biology course which will build the foundation for an after-school Scientific Diving Course in partnership with Friday Harbor Laboratories and the Diving Safety Program at the University of Washington, an Aquaculture course highlighting oyster cultures in partnership with the Westcott Bay Shellfish Company, and a Renewable Resources course including alternative energy design and production and the latest in wearable technologies.
It's a very exciting time for our island K-12 students! If you'd like to get involved, feel free to drop by the STEM Center anytime!