From the San Juan Island School District:
The Friday Harbor High School Aerospace Design Team has passed the 24-hour mark of the 42-hour International Space Settlement Design Competition world championship (ISSDC). Held at NASA's Kennedy Space Center, the ISSDC brings in 250 high school students from nine countries to take part in an aerospace industry simulation. Their mission: form multinational teams of 60 in order to design a space settlement for 18,000 residents on the moon. This year, the Friday Harbor team joins forces with teams from Durango, Colorado, Lahore, Pakistan, Kolkata, India, Edinburgh, Scotland, and London, England. Combined, these teams form an Aerospace Corporation named "Dougeldyne Astrosystems" tasked with desinging the planning, construction, operations, infrastructure and automated systems of a fully functional city set into a crater on the moon's surface.
The ISSDC world finals gives teams 42 hours to creat a space settlement after which the teams brief NASA and aerospace industry judges with a 50-slide design presentation on Monday morning. Friday Harbor students involved in this year's ISSDC World Championship earned their way to NASA by winning the Northwest Semi-Finals in April, and bring their experience designing moon-based habitations with them. In this compeititon, Lucy Urbach  and Joely Loucks, as members of the Human Factors Engineering department are determinining the quantities of all consumable items a city of 18,000 may consume in a year, while Brandon Payne, working with the Operations and Infrastructure department is designing infrastructure for industrial and residential waste systems. In Structural Engineering, Arlo Harold is currently helping design the construction processes needed to excavate and build habitable volumes for lunar residents. Rounding out the Friday Harbor team, Max Mattox and Evan Foley (also in Human Factors) are in charge of creating recreational opportunities for visitors and residents on the moon.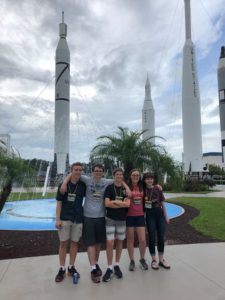 As this is first year Friday Harbor has made it to the world finals, it has been impressive to watch how seemlessly the FHHS students have mixed with their colleagues from around the world. They bring their technical expertise, confidence and island affability with them as they work with some of the top students from around the world. Their international teammates have remarked on how collaborative and creative the Friday Harbor students are, saying that they are some of the easiest and most graceful people to work with.  With a grueling 18 hours left, Friday Harbor and their Dougeldyne teammates will work through the night in order to produce what they hope will be a world championship quality design.
The Friday Harbor Aerospace Team is accompanied by FHHS teacher and coach Daniel Garner along with Trudy Loucks and Jill Urbach. This trip has been made possible with the generous support from The San Juan Island Lions and Leo's Club, the San Juan Island Public Schools Foundation, the San Juan Island School District, and San Juan Island Rotary as well as the many community members and families that are rooting for us back home. Thanks for your support!
—
Daniel Garner
Teacher of English
Friday Harbor High School