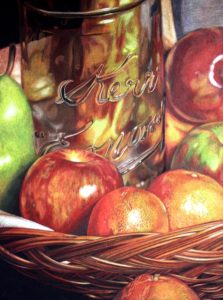 Senior Alaina Scheffer ('14) impressed judges at the 41th Annual OSPI Superintendent's High School Art Show. Alaina's two art pieces both won accolades, including Judge's Choice Award and the Superintendent of Public Instruction's Choice Award after winning, overall, the Superintendent's High School Art Show Competition.
This is quite a feat when you consider that the judges are selecting the best work from all of the regional winners from the entire state.
Alaina's submissions, along with artwork by Ellery Von Dassow, were originally selected to represent the Northwest ESD 189 region covering five different counties (16% Washington State's K-12 public school students).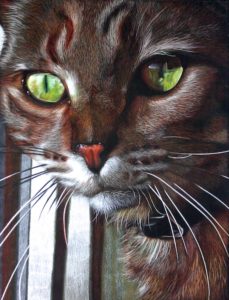 These regional winners moved forward to compete against the State's other eight districts regional winners.
The art pieces submitted were Alaina's Kerr(i) Economy (colored pencil), and Lizzy (color pencil) and Ellery's Arrested (charcoal).
Friday Harbor High School Art Instructor Andy Anderson said "This is a tremendous accomplishment to win the Washington States biggest student art competition.
"Alaina is the top winner in the state and I cannot think of a more deserving student. The last four years she has poured her time and talent into becoming one of the finest young artists in our state."