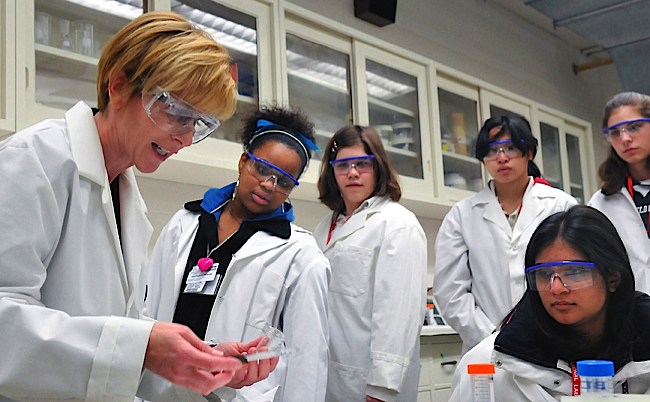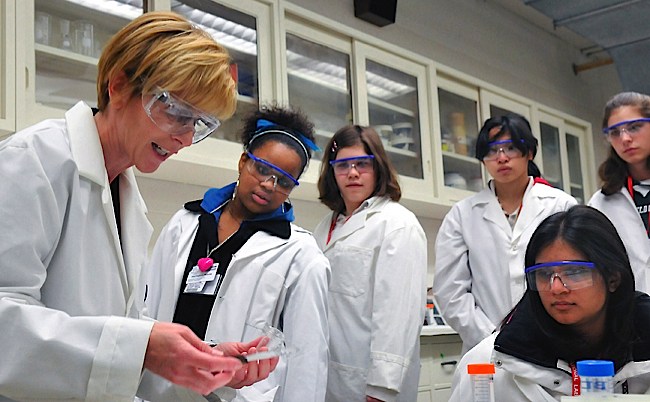 Besides the obvious, the FHHS STEM (Science, Technology, Engineering & Math) program plays an important part in giving women on the island a better chance to succeed in fields often dominated by men. Here's more from Tae Yoo & the Huffington Post:
++++++++
Tae Yoo, Senior Vice President, Corporate Affairs, Cisco
It's a startling pair of statistics: When women are able to earn an income, they typically reinvest 90 percent of it back into their families and communities. And, for every year a girl stays in school, her future earnings will increase exponentially.
These numbers, from the World Bank and the Council on Foreign Relations, respectively, highlight a simple, common-sense truth: The more time a girl spends in the classroom, the higher the return on investment for her time, and the beneficiaries are stronger families and communities.
Over the past two decades we've seen significant progress made in promoting girls' education around the world. Thanks to ratification of the Convention on the Elimination of All Forms of Discrimination Against Women (CEDAW) and the United Nations' Millennium Development Goals, among other actions, there is a greater understanding among developed and developing countries that women play a vital role in society and the economy, and that role is significantly enhanced when they are educated. And, the longer a girl stays in school, the greater the impact. The Council on Foreign Relations finds that "one additional year of primary education alone can increase a girl's future wages by 10 to 20 percent, while an extra year of secondary school adds another 15 to 25 percent."
There are still millions of girls and women — especially in developing countries — who don't have the information, resources or skills they need to be part of the global economy. Keeping them out of the educational loop — for social, cultural, or economic reasons — means that half the population can't contribute to their community's economic growth.
One of the most compelling arguments for encouraging the education of girls, particularly in developing countries, is this: Education enables jobs, jobs are a source of economic growth, and economic growth is a key to development and stability.
As educated girls become women, they can transform local communities and act as role models for younger girls. And, according to the World Bank's findings, when women reinvest that 90 percent of their income back into their families and communities, it is most typically spent acquiring "food, health care, home improvement and schooling for themselves and their children."
But, we mustn't only be educating girls in basic literacy.
We should be preparing them for the jobs of the future, particularly in the science, technology, engineering and math (STEM) sectors. Over the past decade, new technologies like smart phones, tablet computers and cloud computing have transformed the way we live and interact on a global scale. We can be certain that future technology will continue to play a defining role in all our economic futures.
In fact, computer networking skills are, according to the industry analyst IDC, "the global currency of 21st century economies," but there is a significant shortage of people equipped with these skills. ICT careers are in high demand everywhere at the moment and are expected to continue to be an important part of global job growth. Jobs in the public sector are increasingly dependent on technology and more and more government services are available online, in developed and developing countries. Women who have ICT skills can help develop and deliver these services, even in places where the sexes are traditionally kept separate.
Equipping a girl with even rudimentary ICT skills can make a difference in her productivity when she grows up, and this is especially true in developing regions and even in jobs that are viewed as "low-tech."
For women who produce handicrafts or textiles, for example, knowing how to access the internet can be an efficient way to get to market — whether selling locally, regionally, or even internationally — and can offer a pathway to microloans and other banking services, especially in remote areas that may be far from brick-and-mortar financial institutions.
Similarly, women who are involved in agriculture, which continues to be a major part of rural economies throughout the developing world, can use basic ICT skills to access online resources that help them discover new techniques, anticipate weather conditions, understand crop pricing and so on. Women who have the devices and the technical know-how to access and navigate the internet can learn how to produce larger, healthier crops and will reap the economic benefits in the process.
Since girls and women represent 50 percent of the world population, enabling them to participate in their local economies helps broaden the employment pool. The world needs thinkers, leaders and doers more than ever, so neglecting the minds of half the population means a lost opportunity to benefit from their ideas, contributions and actions. Educating girls and women and equipping them with ICT skills offers a clear return on investment for society: stronger families, stronger communities, stronger economies.