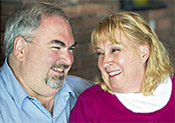 The San Juan Public Schools Foundation has received a substantial grant for equipment, curriculum and professional development for the new STEM Building at FHHS. The grant comes from The Honeywell Charitable Fund of The Community Foundation of the Rappahannock River Region in Virginia. Dave and Nancy Honeywell, directors of the Fund and residents of San Juan Island, came from the Fredericksburg area of Virginia.
SJPSF Treasurer Jim Skoog and past President Nancy Young wrote the grant for consideration by the Honeywells and their Community Foundation. Working closely with SJISD Superintendent Danna Diaz, FHHS/FHMS Principal Fred Woods as well as District staff, a list of important equipment needs as well as some new curriculum were developed and incorporated into the grant.
The STEM facility opened its doors in March 2015, with the first STEM classes already underway – a video game design and coding class that will pave the way for intermediate and advanced coding and design classes to include mobile app development across multiple platforms and devices. Frameworks were developed for submission to the Office of Superintendent of Public Instruction for a new series of STEM classes that have begun this Fall Semester.
These classes include: Materials Engineering, using 3D printers and other computer-controlled manufacturing techniques; Robotics Foundations, including designing and building aerial drones and remotely-operated underwater vehicles; Automotive Foundations, a course providing insights into classic combustion engines through to hybrid and electric vehicle design; Digital Photography, using everything from iPhone cameras to professional DSLRs; Social Media Marketing, to highlight personal and organizational branding of the amazing opportunities the STEM program will create.
The STEM program promises to be a wonderful creative laboratory where the students can bring their wildest dreams to life and help provide solutions to our local, regional, and national communities.
With these funds the Public Schools Foundation will help keep our elementary, middle and high schools in the upper echelon of the state rankings. We have been granting to the San Juan Island School District for twenty years with more grants to come as our educators find there are many needs beyond existing funding by State and Federal sources. Some examples of recent Public Schools Foundation grants include support for math, social studies and art programs.
Purchasing textbooks, supplies and other crucial educational materials are what your donations make possible. You will hear about some of these success stories at the annual Knowledge Bowl to be held early next year. Please come and help us all celebrate excellence in the classroom here on San Juan Island.